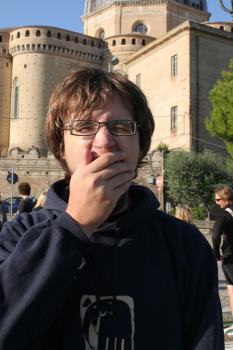 Rudolf Rosa
Main Research Interests
Dependency parsing
Unsupervised and semi-supervised methods, especially cross-lingual and multilingual
Automatic post-editing of Machine translation
Machine translation

Visit my Research MicroBlog to see what I am currently up to!
Projects
croSSSynt

This is my personal project on cross-lingual syntax modelling. It is a realization of my PhD topic (the full official topic is "Odhalování struktury vět přirozeného jazyka pomocí neřízených a částečně řízených metod", the so far unofficial English translation is "Discovering the structure of natural language sentences by unsupervised and semi-supervised methods"), and it is realized under my GAUK grant, Modelling dependency syntax across languages.

Past
Curriculum Vitae
You can download my CV either in English or in Czech.
Teaching
I am the student ambassador of ÚFAL, so feel free to contact me with anything related to studying here.

Jsem studentským ambasadorem ÚFALu -- zeptejte se mě na cokoliv ohledně studia lingvistiky na Matfyzu!

I also help Zdeněk Žabokrtský with teaching the NLP Technology course.
Selected Bibliography
Students
Bachelor students

Yuliya Yamalutdinova: Contradiction Detection
Anastasiia Kysliak: Cross-lingual Annotation Transfer