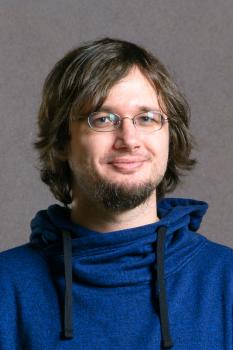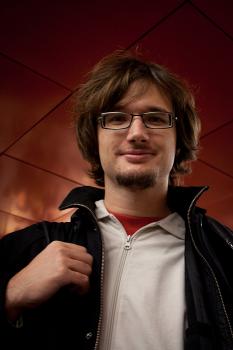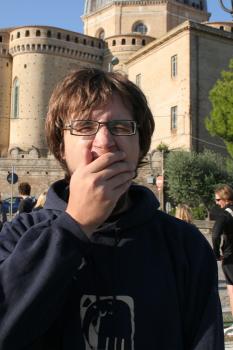 Rudolf Rosa
Main Research Interests
Natural language generation, generative art
Robopsychologist
Popularization of science

Computational linguistics, text generation, language models, theatre script generation, life with artificial intelligence...
Lectures, interative seminars, workshops, live system demonstrations, consultations...
For schools, for the public, for seniors, for businesses, for specialists...

 Popularizace vědy

Počítačová lingvistika, generování textu, jazykové modely, generování scénářů divadelních her, život s umělou inteligencí...
Přednášky, interaktivní semináře, workshopy, živé ukázky systémů, konzultace...
Pro školy, pro veřejnost, pro seniory, pro firmy, pro specilisty...

In the past:

Automatic post-editing of Machine translation
Morphology, derivations
Dependency parsing
Unsupervised and semi-supervised methods, especially cross-lingual and multilingual
Projects
THEaiTRE: automatic generation of theatre play scripts

In cooperation with Švandovo theatre, DAMU, and Tomáš Studeník, we created THEaiTRobot, a system for automatic generation of theatre play scripts. Within the project, we managed to create and put on stage the first full-length (60 minutes) theatre play which has 90% of the script generated automatically. See:

The project website theaitre.com
The first play "AI: Když robot píše hru" ("AI: When a Robot Writes a Play"):
The script of the second play, "Permeation / Prostoupení"
The website of a spinoff project, PLai Prague, which put on stage a third performance called "Prague Clockwork Cabaret"
A book about the project
With Victor Schetinger from TU Wien, we are now trying to enrich the script generation with storyboard generation (i.e. generatting the text and also accompanying images)

 Ve spolupráci se Švandovým divadlem jsme uvedli první celovečerní divadelní hru na světě, jejíž scénář z 90% napsala umělá inteligence. Viz web projektu theaitre.com

AI v kontextu (AI in Context)

We are a multidisciplinary working group of experts studying and using AI in various contexts. We also organize various lectures and discussions. Most of what we do is presented in Czech language only.

 Jsme multidisciplinární pracovní skupina odborníků zabývajících se umělou inteligencí v kontextu různých oborů. Mezi naše aktivity patří:

Automatic generation of Czech poetry

If we get funding for that, we will be working with ÚČL AV ČR on neural modelling of Czech poetry and automated generation of new poems.

Past
Curriculum Vitae
You can download my CV in English.

 Můžete si stáhnout můj životopis v češtině.
Teaching
List of classes
Selected Bibliography
You can use Google Scholar or Semantic Scholar, and I also have here an automated static listing of my publications.
Students
I am happy to supervise NLP projects (bachelor theses, master theses, etc.), have a look at Project Ideas.
Warning: Reading scientific literature is my weak point, so it will be mostly your responsibility to review existing literature relevant to the topic!

 Rád povedu projekty v oblasti zpracování přirozeného jazyka (Bc. a Mgr. práce apod.), mrkněte na Náměty na projekty.
Varování: Čtení odborné literatury není mou silnou stránkou, takže rešerše relevantních článků budou především Vaší zodpovědností!

Bachelor students

Master students

Interns
Other
I was one of the main organizers of the Slovakoczech NLP workshop for students and early-stage researchers -- see SloNLP 2015, SloNLP 2016, SloNLP 2017, SloNLP 2018, SloNLP 2019.
My Erdös number is 4 (me - Jaroslava Hlaváčová - Petr Savický - Zsolt Tuza - Paul Erdös)

 Můj herní index je 73 (aktuální po Navíc 2021), náš šifrovací tým se jmenuje Divize nulou.