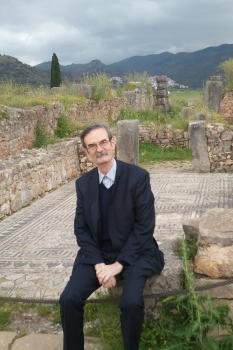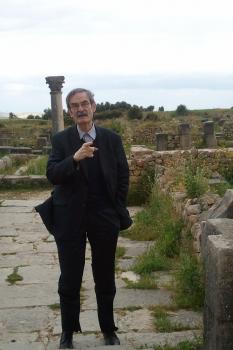 Patrice Pognan
Main Research Interests
Diachronic and synchronic linguistic system of the Slavic languages.

Berber linguistics.

 
Selected Bibliography
Analyse morphosyntaxique de textes médicaux tchèques. Extraction automatique du verbe. Thèse de doctorat de 3ème cycle sous la direction d'Yves Millet et de Petr Sgall. Université de Paris 3 Sorbonne nouvelle. 1972.
Analyse automatique du tchèque.Vers un algorithme de "compréhension" implicite des textes scientifiques. Définition d'un module prédicatif général, Thèse d'état ès Lettres sous la direction d'Yves Millet: Université de Paris 3 Sorbonne nouvelle, 1977. Publication Paris : Champion, 1979. (ISBN 2-7295-0073-1).
Analyse morphosyntaxique automatique du discours scientifique tchèque. Ed. scientifique et préface de Daniel Hérault. Paris : Dunod - Association Jean-Favard pour le développement de la linguistique quantitative, 1975. (ISBN 2-04-008587-4).
Histoire de l'écriture et de l'orthographe tchèques. ". Histoire, Epistémologie et Langage. Paris. Tome 21, fascicule 1, 1999. http://www.persee.fr/web/revues/home/prescript/article/hel_0750-8069_199....

Schlamberger Brezar,

 M., Perko, G., Pognan, P.: Les bases de la morphologie du slovène pour locuteurs francophones. Ljubljana : Filosofska Fakulteta, Univerza v Ljubljani, 192p.,

 2015. (ISBN 978-961-237-741-0 (zv. 1))

Chovancová K., Pognan P. éds: "Conception d'une nouvelle grammaire slovaque pour les francophones". Paris, Editions des Archives Contemporaines, 2018.

Vypočítatelnost češtiny ve srovnání s ostatními západoslovanskými jazyky (Calculabilité du tchèque en comparaison avec les autres langues slaves de l'Ouest). in 

"Славистика" 22/1. Beograd / Belgrade, 2018.

Slovesná valence ve frankofonních a slovanských lingvistických tradicích (la valence verbale dans les traditions linguistiques slaves et francophones). in 

Prace Filologiczne

,

 LXXII, Warszawa, 2018, pp 283-297.

Synchronní a diachronní mluvnice pro automatickou heuristickou analýzu českých korpusů. / Grammaire synchronique et diachronique pour l'analyse automatique heuristique de corpora tchèques.

Aranea 2018, Web Corpora as a Language Training Tool​, Bratislava, 2018.
------------
Taïfi, M.: "Dictionnaire raisonné berbère - français. Parlers du Maroc" (1223p), Pognan, P.:.index "Formes de mots berbères - racines" (166p) et index "Significations françaises - racines berbères" (319p).  IRCAM, Rabat, 2017.
Pognan, P., Sadi N., Fitas R., Salhi M.-A., Achour R. « Analyse morphologique automatique du kabyle. Traitement de l'affixation. Présentations linguistique et algorithmique », Bayreuth, 10ème Bayreuth-Frankfurt-Leidener Kolloquium zur Berberologie, 2018.