The 2015 SIGDIAL meeting will take place from September 2nd to 4th in Prague, Czech Republic in the Computer Science Building of Charles University, conveniently located right in the center of the city. SIGDIAL 2015 is co-located with the INTERSPEECH conference, which will take place from September 6th to 10th in Dresden, Germany.
This page provides information about the venue only. The main website for SIGDIAL 2015 can be found at http://www.sigdial.org/workshops/conference16.
Local Chair: Filip Jurčíček (jurcicek@ufal.mff.cuni.cz)
Local Team: Ahmad Aghaebrahimian, Ondřej Dušek, Ondřej Plátek, Lukáš Žilka
Downloads
Local Information
Table of contents:
Venue
Conference and Social Center "House for Professed" (a.k.a. Old Refectory)
1st floor (2nd floor in US counting)
Computer Science Building, Charles University in Prague
Address:
Faculty of Mathematics and Physics
Charles University in Prague
Malostranské náměstí 25
118 00 Prague 1
Czech Republic
Wi-Fi at the venue
There is an Eduroam coverage in the whole building (as well as in other university buildings around the city and even train stations), so Eduroam will just work if you already have access to it.
Passwords to the conference Wi-Fi network will be provided upon arrival.
The network might get slow in the main conference room. In that case, try using a different AP in the corridor (there are seats on the 4th floor) or in the computer lab on the ground floor.
On-site Registration
On-site registration will be possible with payment in cash CZK only (Czech Crowns, see below for currency information).
The on-site registration fees are as follows:
| | |
| --- | --- |
|  Regular                                                  |  6 500 CZK |
|  Student |  4 500 CZK |
The SIGDIAL dinner
The SIGDIAL dinner will take place on Wednesday, September 2nd at 7pm in the Konírna restaurant, about 5 minutes' walk from the venue (Maltézské náměstí 10, Praha 1).
Instructions for Presenters
The instructions for the individual presentation types are given below. Shoudl you have any special requests regarding your presentation, please email us at conference@sigdial.org.
Instructions for Oral Session Presenters
25 minutes are allocated for each oral presentation – please limit your presentation to 20 minutes and allow 5 minutes for questions. For the MultiLing special session presentations, the allocated time varies. 
Poster and Demo Madness Session
Each poster/demo will have an opportunity to give a one-minute plenary presentation to introduce/advertise the poster/demo during the Poster and Demo Madness session.
Please use PowerPoint or PDF format to prepare one slide for your one-minute presentation. Please do not use animation on your slide. To ensure a smooth transition between slides, we will collect slides from all presenters ahead of time. You will be contacted via email regarding the deadline for your slide submission and the instructions for upload.
Instructions for Poster Session Presenters
The poster sesions will be approximately 2 hours long. There will  be self-standing double-sided poster boards provided. The posters should be of A0 size, portrait orientation (841 x 1,189 mm / 33.1 x 46.8 in). Pushpins for mounting the posters will also be provided.
Instructions for Demo Session Presenters
The demo sesions will be approximately 2 hours long and will take place in parallel with the poster sessions. There will be tables for the presenters where they can show their demos on their own equipment, e.g., laptops. In addition, one poster board will be available for each demo (see dimensions above). The demonstrations will run in parallel. 
The conference will provide both cable and wireless internet connection, allowing internet-based projects to be demonstrated. As the wireless connection might get overloaded in the crowded presentation room, we enourage the presenters to use cable internet.
Travel
Travelling to the venue
Prague can be easily reached from popular gateways to Europe including London, Paris, Amsterdam, Frankfurt, Zurich, Helsinki, Rome, Dubai etc. In addition, Prague can be reached by train or car from nearby cities such as Berlin, Dresden, Vienna and Munich.
By plane
To get from the Prague Václav Havel Airport (Ruzyně) to the conference venue:
Take an airport taxi – Take ONLY AAA or 111 yellow taxis. Contact counters are located in arrival halls of both terminals.
The fare should not go over CZK 600 (USD 25). Taxi drivers should always issue a signed receipt. Ask the driver about the cost beforehand. They usually accept CCs (ask at the stand and the driver), CZK and EUR (not a very favorable exchange rate), but not USD.
Use public transport – the preferrable route is the following:
1) Take the bus no. 119 (direction Nádraží Veleslavín) to the terminal stop Nádraží Veleslavín.
2) Then take tram no. 20 (direction Sídliště Barrandov) and get off after 12 stops at Malostranské náměstí.
The journey takes about 50 minutes in total, the fare is CZK 32 (ca. USD 1.30). You can view the journey on Google Maps along with other options (note that special, higher fare applies on the AE bus line and on Student Agency buses). More information about public transport in Prague can be found below.
By train or bus
Taking the train is a convenient option when travelling, e.g., from Berlin or Vienna. All long-distance trains arrive to the main railway station (Hlavní nádraží). Trains arriving from Berlin/Dresden stop at the Holešovice station, too. Most long-distance buses arrive at the Florenc bus station.
To get to the venue using public transport:
From Hlavní nádraží (main station):
1) take the metro line C (red line, direction Háje) to the Muzeum station (1 stop).
2) Then change to line A (green line, direction Dejvická) and get off at Malostranská (3 stops).
3) Then take tram no. 12, 20 or 22  (direction Sídliště Barrandov or Nádraží Hostivař) and get off at Malostranské náměstí (1 stop).
The journey takes about 25 minutes, the fare is CZK 24 (ca. USD 1). You can view it on Google maps (along with other options).
 
From the Holešovice railway station:
1) take tram no. 12 (direction Sídliště Barrandov) and get off after 10 stops at Malostranské náměstí.
The journey takes about 20 minutes, the fare is CZK 24 (ca. USD 1). You can view it on Google maps.
 
From Florenc bus station:
1) take the metro line B (yellow line, direction Zličín) to the Národní třída station (3 stops).
2) take tram no. 22 (direction Bílá Hora) and get off at Malostranské náměstí (4 stops).
The journey takes about 25 minutes, the fare is CZK 24 (ca. USD 1). You can view it on Google maps (along with other options).
Using a taxi: Take AAA taxis only. Taxi stands are located near all stations (see details for Hlavní nádraží here). The fare should not be over CZK 250 (ask about it beforehand).
To the venue by car
A car is recommended to reach your hotel only. Prague city center has heavy traffic during rush hours and few free parking spots.
Parking:
There is a car park right in front of the conference venue, with a parking fee of CZK 60 / hour (but it often fills quickly in the morning).
The nearest underground parking lot at Rudolfinum is about 15 min. walk away from the venue and has the same fee of CZK 60 / hour.
Visa
The Czech Republic is part of the European Union (incl. Schengen border-less region). Please see the Ministry of Foreign Affairs website to check if you need a visa and how to obtain it. Note that Czech embassies need 30 days to decide if they grant you the visa or not, so be sure to apply soon enough.
If you need a visa for entering the European Union, we can issue a letter of invitation for you. To ask for the letter of invitation, please register for the conference and send the following information to Ahmad Aghaebrahimian:
Your name and surname (i.e. family name)
Nationality
Date of birth
Address of residence
Name and address of your employer
Passport number
Passport expiration date
Conference registration confirmation
If we don't know you, we may ask you for additional information, e.g. your CV or list of publications.
We will e-mail or fax the letter of invitation to you. (Embassies are usually happy to accept e-mail/fax versions of invitation letters.)
Travelling from Prague to Interspeech
Dresden is only about 120 km away from Prague. Probably the best option is to take a train – there are direct EuroCity trains that run every 2 hours during the day (4:30AM–6:30PM), the journey takes 2:15h. You can buy the ticket online from Czech Railways (it may be cheaper if you book early).
Search for a direct route from "Praha hl. n." (Prague main station) to "Dresden Hbf" (Dresden main station).
Another option is to take a bus or a car, the journey takes also about 2 hours. You can book a bus ticket online with Student Agency or EuroLines.
Accommodation
Some of the suggested hotels within walking distance:
You can also rent an appartment, e.g., in Vlašská street, ca. 7 minutes from the Venue.
You can find more accommodation options, e.g., on www.czechsite.com and www.prague-hostels.cz.
Getting Around
See the annotated Google Map for useful locations around the conference venue. Most of them are described below in greater detail.
Restaurants
Here is a non-exhaustive list of lunch/dinner options around the conference venue (you can find them all on the annotated Google Map):
Profesní dům – rather a cafeteria, not great, but OK and you do not have to leave the building (just go down to -1st floor)
Malostranská beseda – a Czech/international restaurant, just across the street from the venue
Pivo & Basilico – a stylish international restaurant offering pizza and pasta as well as Czech cuisine (just around the corner from the venue)
Malostranská Ferdinanda – a Czech restaurant with good and cheap daily lunch menus, a bit limited choice in the evening (5 minutes from the venue)
Lokál U Bílé kuželky – a Czech restaurant/pub with traditional meals and Pilsner beer (5 minutes from the venue)
Konírna – a stylish Czech restaurant serving traditional and modern cuisine (this is where the conference dinner will take place, it's 5 minutes from the venue)
Kočár z vídně – a stylish restaurant serving imperial Austrian cuisine (5 minutes from the venue)
Baráčnická rychta – a traditional Czech restaurant/pub (7 minutes from the venue)
Barbar – a stylish restaurant offering international cuisine (10 minutes from the venue, or 2 tram stops)
Green Spirit – a vegetarian café restaurant (about 7 minutes from the venue)
Golden Tikka – Indian restaurant (about 20 minutes from the venue, in the Old Town)
Many restaurants in Prague offer daily lunch menus from about 11:30am till 2pm, with usualy two to five options, cheaper and faster than the usual menu.
Public Transport
Prague has an excellent public transport network that includes Metro (subway), trams, buses, suburban trains, and river ferries. It is the recommended means of transportation around the city. It operates 5am-midnight, with some night trams running overnight. It is quite reliable and safe (safe to the extent as any capital city may be – beware of pickpockets!).
Basic ticket prices (more details can be found on the Prague Transport Co. website):
basic – 90 minutes: 32 CZK (1.30 USD/1.20 EUR)
short-term – 30 minutes: 24 CZK (1 USD/0.90 EUR)
unlimited 24hr ticket: 110 CZK (4.50 USD/4 EUR)
unlimited 72hr ticket: 310 CZK (12.80 USD/11.30 EUR)
Any transfers are allowed among regularly scheduled routes within the city limits and within the max.\ time bought. The unlimited 24hr/72hr tickets pay off only if you take more than 4 trips per day.
Tickets must be bought before boarding, either at ticket machines (most of them accept CZK coins only) at some tram stops and most subway stations, or at some newspaper stands. One such newspaper stand is directly at Malostranské náměstí, and a ticket machine is at the tram stop at Malostranské náměstí.
Tickets have to be stamped upon entry to the first tram/bus/subway station (stick the ticket into any of the yellow boxes with a slot; it will print the validity start time).
Taxis
Taxi drivers in the Prague city center are notorious for overcharging. This happens mostly when taking a "no-name" taxi on the street, so to be on the safe side, order taxis of larger companies such as AAA, 111 airport cars, or TickTack online or on the phone. Taxi stands at the airport and the train stations should be OK (more details given above).
When using a taxi, ask about the fare and payment options (CC, EUR) beforehand.
Currency
The local currency is the Czech Crown (Česká Koruna, CZK). The exchange course was about 24 CZK/1 USD and 27 CZK/1 EUR in August 2015.
When exchanging currency on the street, always check for commission charge and/or worse rates for lower amounts exchanged. Depending on the conditions of your home bank, the best way to get Czech Crowns might be using an ATM, which are plentiful around the city (in that case, letting your bank handling the exchange is usually preferrable to using the ATM's rate).
Here are some exchange offices known to offer reasonable rates without commission charges:
Car rental
The usual car rental companies (Avis, Hertz, Budget, Europcar, Sixt) and many other national ones are in the ground floor of the Prague Airport Terminal 1 building, and also in the Airport Parking garage "C".
Shopping (groceries and more)
Prague city center is full of restaurants and souvenir shops, but it might be a bit tricky to find basic groceries and other everyday stuff at reasonable prices. Here are a few shops nearby the venue:
These and some more are marked on the annotated Google Map. Most shops and restaurants in the city accept major CCs, but not all of them.
Sightseeing and more
Historical sites
The Prague official sightseeing site offers a lot of information about the main historical sites in Prague. We list here just a few, to give you an idea.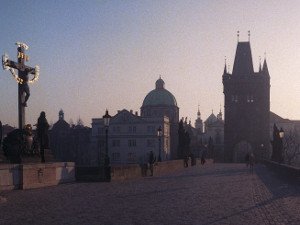 Signature Prague sights: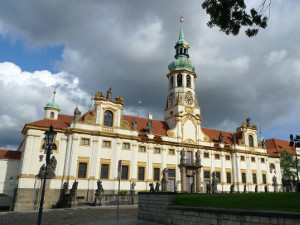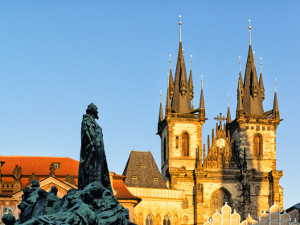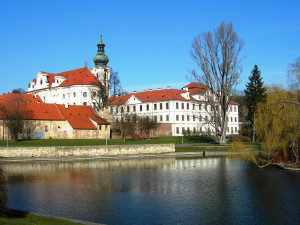 Old religious buildings: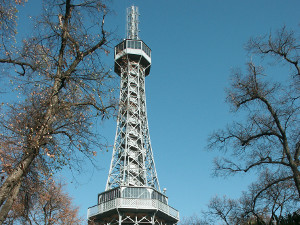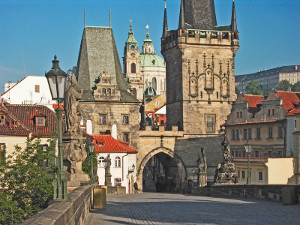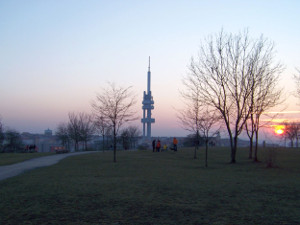 Towers with a nice view over the city: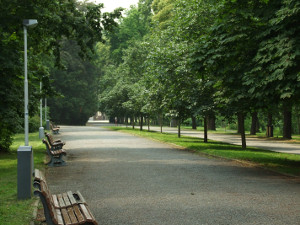 Parks and gardens:
Culture
Prague has many museums, galleries, music clubs, theaters, and other places to find culture. 
In theater, Prague's specialties are Laterna Magika and Black Light Theater; you can also find good opera and ballet in the National Theater. Note that many theaters in Prague use English subtitles, but not all of them, so be sure to check this before you buy tickets.
Regarding music, there are numerous options in the city center, starting from classical music venues such as the Rudolfinum Concert Hall, followed by jazz clubs, e.g., Agharta, Reduta, U Malého Glena, U Staré Paní, or Ungelt, up to pop/rock music clubs, such as Lucerna Music Bar, Roxy, Rock Café, or Palác Akropolis.
For dancing, regular "Tea Dances" (ballroom dancing) take place Tuesdays, Fridas, and Saturdays at the EuroDanceCenter just across the river. You can also check out some of Prague's discos, e.g., at Karlovy Lázně (largest disco in Central Europe), Lucerna Music Bar, or Radost F/X.
You can find more about other cultural events and venues in Prague here:
Other useful information
Photos: Prague City Tourism, Wikimedia Commons (CC3.0-BY-SA)