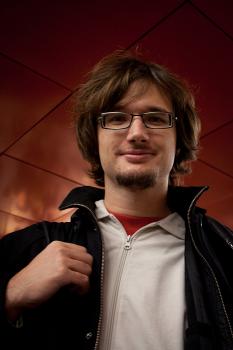 Rudolf Rosa
Main Research Interests
Looking for linguistic structures in Deep Neural Networks
Dependency parsing
Unsupervised and semi-supervised methods, especially cross-lingual and multilingual
Now starting: morphology, derivations
In the past: automatic post-editing of Machine translation

Thesis defence: 14th June 10:00 in S1.
Projects
Linguistic Structure Representation in Neural Networks (LSD)

I am now working on a GAČR grant of David Mareček, called LSD, where we are trying to look at what linguistic structures can be found hidden inside of neural networks.

Cross-lingual Syntactic Parsing

The topic of my dissertation has been Discovering the structure of natural language sentences by semi-supervised methods, which mostly means cross-lingual transfer of syntactic parsers (but I also looked at tagging a bit).
I also got a GAUK grant for that, which was called Modelling dependency syntax across languages.

Past
Curriculum Vitae
You can download my CV either in English or in Czech.
Teaching
List of classesNPFL092 NLP TechnologyNPFL118 Natural language processing on computational clusterNPFL120 Multilingual Natural Language ProcessingNPRG045
Selected Bibliography
Students
Bachelor students

Yuliya Yamalutdinova: Contradiction Detection
Anastasiia Kysliak: Cross-lingual Annotation Transfer (only a consultant)