(c) www.ceskatelevize.cz
Upcoming Event
Watson Language Translator
Martin Čmejrek (IBM) will cover introduction to the translation API, domain adaptation using corpus customization and forced glossary.
High-quality affordable bachelor's and master's programs taught in English, at one of the oldest and most highly regarded universities in Europe and in one of the most student-friendly cities.
---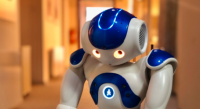 THEaiTRE on radio
Science magazine Experiment on Radiožurnál aired an interview about the THEAITRE project.
Our teaching is going remote
Here we provide comprehensive information on remote mode of our courses running in the winter term 2020/21.
---
Gold Medal for Eva Hajičová

Professor Eva Hajičová received the Gold Medal of Charles University for her lifelong work in the field of formal and applied linguistics and her scientific and pedagogical activity at Charles University. Congratulations!
Ondřej Dušek in NLP Highlights
The latest episode of NLP Highlights podcast - Data-To-Text Generation - features Ondřej Dušek and Verena Rieser.