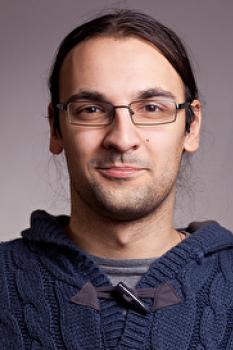 Roman Sudarikov
Main Research Interests
Machine translation, Linked Open Data
Projects
CzEng 1.6 (http://ufal.mff.cuni.cz/czeng/czeng16pre)

QTLeap (http://qtleap.eu/)
Curriculum Vitae
Education

 

2014 –

Ustav Formalni a Applikovane Lingvistky, Matamatiko-Fizikalni Fakulta, Univerzita Karlova v Praze,

Ph.D. student "Computational Linguistics"

2010 – 2012

Federal State Autonomous Educational Institution of Higher Professional Education «Ural Federal University named after the first President of Russia B.N.Yeltsin» (The Ural Federal University, UrFU)

Institute of Mathematics and Computer Sciences

MA in Mathematics

2006 – 2010

Federal State Autonomous Educational Institution of Higher Professional Education «Ural Federal University named after the first President of Russia B.N.Yeltsin» (The Ural Federal University, UrFU)

Institute of Mathematics and Computer Sciences

BA in Mathematics

1997 – 2006

School №99, Ekaterinburg, Russia

 

 

Professional Experience

 

 

| | |
| --- | --- |
| 2012 – 2014 | Quality search assessor (administrator of assessors), Yandex |
| 2013 – 2014 | Software Engineer, MiraLogic IT |
| 2009 – 2012 | Web Developer,  Web Studio «Euromedia» |

 

Additional Education

 

| | |
| --- | --- |
| 2009-2010 | Special course «Cisco Network Technologies» |
| 2009-2010 | Special course «Introduction in Accounting System «1С-Предприятие 8.1» |
| 2010 | Javascript Master Class by I.Cantor (www.javascript.ru) |
Selected Bibliography
Sudarikov Roman, Bojar Ondřej: Giving a Sense: A Pilot Study in Concept Annotation from Multiple Resources. In: Proceedings of the 15th conference ITAT 2015: Slovenskočeský NLP workshop (SloNLP 2015), Copyright © CreateSpace Independent Publishing Platform, Praha, Czechia, ISBN 978-1515120650, ISSN 1613-0073, pp. 88-94, 2015

Sudarikov Roman, Fanta Petr, Bojar Ondřej: TeamUFAL: WSD+EL as Document Retrieval. In: Proceedings of the 9th International Workshop on Semantic Evaluation (SemEval 2015), Copyright © Association for Computational Linguistics, Stroudsburg, PA, USA, ISBN 978-1-941643-40-2, pp. 350-354, 2015

V.L. Аverbukh, A.Yu. Kulakov, R.O. Sudarikov, VISUAL SUPPORTING OF PROGRAM PARALLELIZING // XII International Workshop "Super-Computations and Computer Simulations" Sarov, October 11-15, 2010, pp. 11-12.

D.V. Manakov, R.O. Sudarikov, TAG CLOUD FOR THE INFORMATION DATA FILTRATION // XIV International Conference "Super-Computations and Mathematical Modeling" Abstracts Sarov, 2012. Pp. 121-123.

​Full bibliography - https://ufal.mff.cuni.cz/biblio/?section=author&id=6435387691524391946&m...