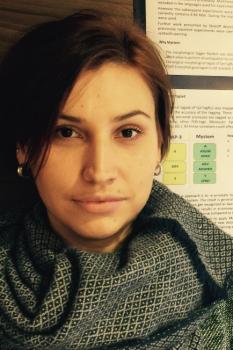 Kira Droganova
Main Research Interests
Morphology, syntax, parsing, corpus linguistics.
Projects
2017-2019 Universal morphosyntactic annotation of language data  (GAUK project No 794417)

This project is aimed to investigate behavior of non-trivial syntactic trees. The project is related to my PhD thesis topic (Dependency Parsing beyond Simple Trees).
Curriculum Vitae
My CV is available at https://ufal.mff.cuni.cz/kira-droganova/curriculum-vitae.
Selected Bibliography
Kira Droganova, Daniel Zeman, "Elliptic Constructions: Spotting Patterns in UD Treebanks" In online proceedings of NoDaLiDa Workshop on Universal Dependencies (UDW 2017), NoDaLiDa 2017, Gothenburg, May 22

Kira Droganova, Daniel Zeman (2016): Conversion of SynTagRus (the Russian dependency treebank) to Universal Dependencies (technical report). ÚFAL MFF UK, Praha, Czechia

Nikita Mediankin, Kira Droganova, "Building NLP Pipeline for Russian with a handful of linguistic knowledge". In online proceedings of Workshop «Computational linguistics and language science» (CLLS), Moscow 2016 at CEUR Workshop Proceedings (CEUR-WS.org).

Kira Droganova, Building a Dependency Parsing Model for Russian with MaltParser and MyStem TagsetIn Proceedings of the AINL-ISMW FRUCT, Saint-Petersburg, Russia, 9-14 November 2015, ITMO University, FRUCT, Finland. ISBN 978-5-7577-0493-7