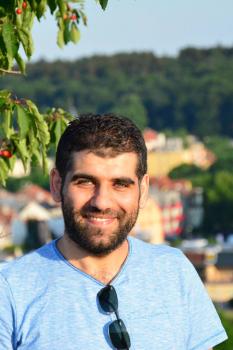 Shadi Saleh
Main Research Interests
Cross-Lingual Information Retrieval

Consumer Health Search

Machine Translation (statistical and neural)

Computational linguistics

Machine Learning 
Curriculum Vitae
I graduated from the faculty of informatics engineering at Tishreen University in Syria in 2012.

In 2013, I moved to Prague and started my PhD in Cross-lingual Information Retrieval.

During this period, I founded an Arabic search engine called Shamra, and you can find the story behind it in this interview with the BCS Information Retrieval Specialist Group.

In 2019, I started a new job in Prague as a senior data scientist in 

Datasentics

.
Selected Bibliography
Shadi Saleh, Pavel Pecina (2020): Document Translation vs. Query Translation for Cross-Lingual Information Retrieval in the Medical Domain, In: Proceedings of ACL 2020, the 58th Annual Meeting of the Association for Computational Linguistics (Long Papers), Association for Computational Linguistics, Stroudsburg, PA, USA
Shadi Saleh, Pavel Pecina (2019): Term Selection for Query Expansion in Medical Cross-Lingual Information Retrieval. In: Advances in Information Retrieval; 41st European Conference on IR Research, ECIR 2019 , Lecture Notes in Computer Science, ISSN 0302-9743, 1, pp. 507-522, Springer International Publishing, Berlin, Germany
Shadi Saleh, Pavel Pecina (2019): An Extended CLEF eHealth Test Collection for Cross-lingual Information Retrieval in the Medical Domain. In: Advances in Information Retrieval; 41st European Conference on IR Research, ECIR 2019 , Lecture Notes in Computer Science, ISSN 0302-9743, 1, pp. 188-195, Springer International Publishing, Berlin, Germany
Shadi Saleh, Pavel Pecina (2018): CUNI team: CLEF eHealth Consumer Health Search Task 2018. In: Working Notes of CLEF 2018 - Conference and Labs of the Evaluation Forum, pp. 1-11, CEUR-WS, Aachen, Germany
Shadi Saleh, Pavel Pecina (2017): Task3 Patient-Centred Information Retrieval: Team CUNI. In: CLEF 2017 - 8th Conference and Labs of the Evaluation Forum, Lecture Notes in Computer Science, Lecture Notes in Computer Science, ISSN 0302-9743, pp. 1-7, Springer, Berlin, Germany
Shadi Saleh, Pavel Pecina (2016): Reranking Hypotheses of Machine-Translated Queries for Cross-Lingual Information Retrieval. In: Experimental IR Meets Multilinguality, Multimodality, and Interaction 7th International Conference of the CLEF Association, Lecture Notes in Computer Science, ISSN 0302-9743, vol. 9822, no. 9822, pp. 54-66, Springer, Berlin, Germany, ISBN 978-3-319-44563-2 
Shadi Saleh, Pavel Pecina (2016): Reranking Hypotheses of Machine-Translated Queries for Cross-Lingual Information Retrieval. In: Experimental IR Meets Multilinguality, Multimodality, and Interaction 7th International Conference of the CLEF Association, Lecture Notes in Computer Science, ISSN 0302-9743, vol. 9822, no. 9822, pp. 54-66, Springer, Berlin, Germany, ISBN 978-3-319-44563-2
Shadi Saleh, Pavel Pecina (2016): Task3 Patient-Centred Information Retrieval: Team CUNI. In: CLEF 2016 Working Notes, pp. 123-129, CEUR-WS 
Shadi Saleh, Pavel Pecina (2016): Adapting SMT Query Translation Reranker to New Languages in Cross-Lingual Information Retrieval. In: Medical Information Retrieval (MedIR) Workshop at the 39th International ACM SIGIR Conference on Research and Development in Information Retrieval, pp. 1-4, ACM, Pisa, Italy
Petra Galuščáková, Shadi Saleh, Pavel Pecina (2016): SHAMUS: UFAL Search and Hyperlinking Multimedia System. In: Advances in Information Retrieval, Lecture Notes in Computer Science, ISSN 0302-9743, vol. 9626, no. 1, pp. 853-856, Springer International Publishing, Cham, Switzerland, ISBN 978-3-319-30670-4
Shadi Saleh, Feraena Bibyna, Pavel Pecina (2015): CUNI at the CLEF eHealth 2015 Task 2. In: Working Notes of CLEF 2015 - Conference and Labs of the Evaluation forum, CEUR, Aachen, Germany
Shadi Saleh, Pavel Pecina (2014): CUNI at the ShARe/CLEF eHealth Evaluation Lab 2014. In: Working Notes for CLEF 2014 Conference , pp. 226-235, CEUR-WS.org, Aachen, Germany