WARNING: UNDER CONSTRUCTION
Some details on PhD Study at ÚFAL
---
Status of this document:
This document describes how the PhD study program Computational Linguistics is organized.
This document is a rather informal summary. Clearly, faculty and university regulations provide more details and are superior to this document (but hopefully there are no contradictions; if you find some, please report it to zabokrtsky@ufal.mff.cuni.cz).
This document is not exhaustive: new PhD students are provided with much more organizational and technical information collectively in the course NPFL118 as well as individually by their supervisors.
---
Table of contents:
---
A. Milestones in an individual PhD study at UFAL
A.1. Searching for your PhD advisor and your PhD topic
A.2. Applying for a PhD student position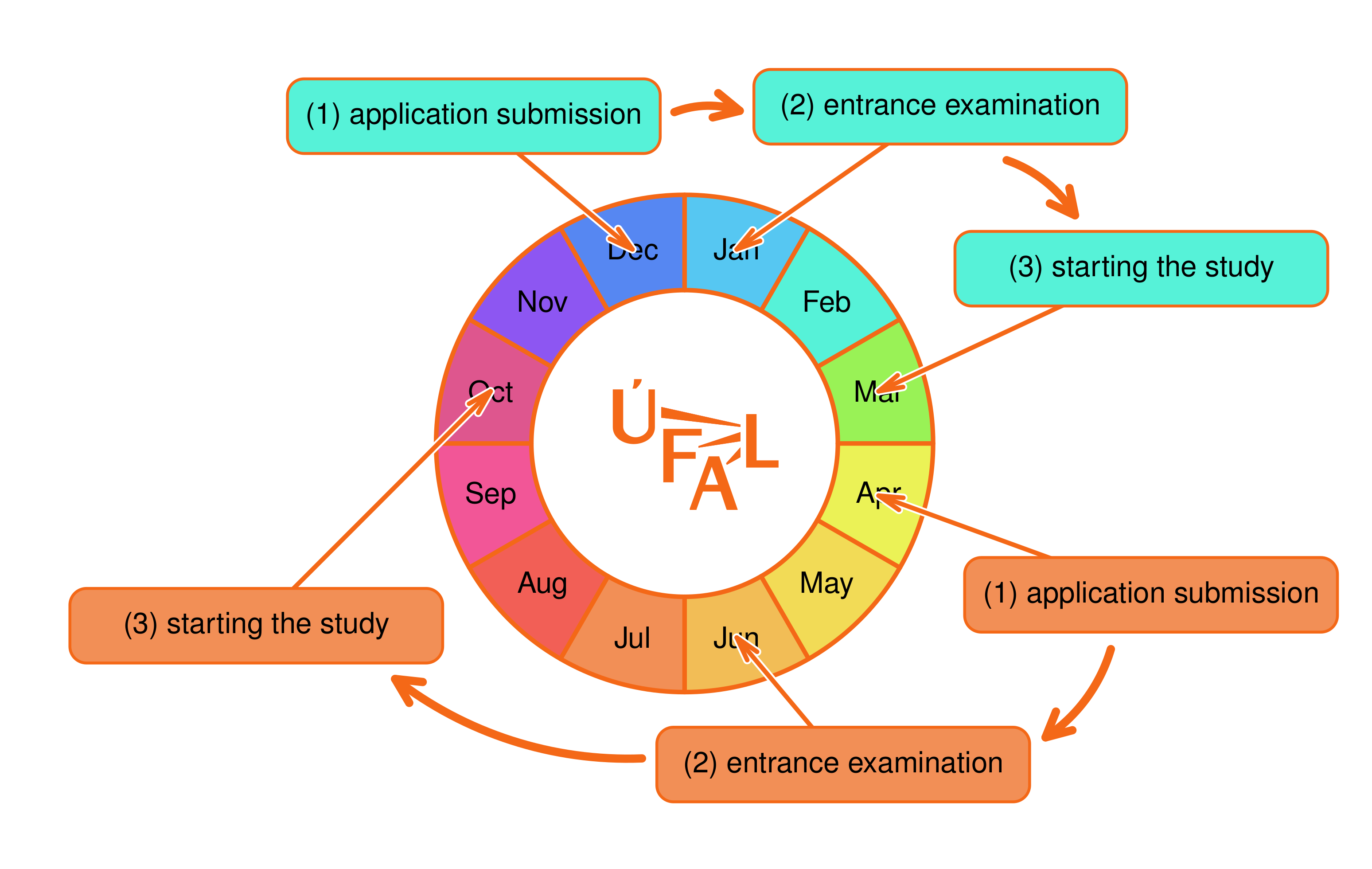 A.3. Passing the entrance examination
A.4. Applying for an employee position (AP1)
A.5. Enrolling into the study program P4I3(A)
A.6. Composing your individual study plan
 
yearly evaluation and updates
A.7. Submitting your GAUK grant application
A.8. Presenting your PhD research topic at the UFAL PhD micro-conference
A.9. Going for a research stay abroad
A.10. Submitting your thesis proposal and passing the state doctoral exam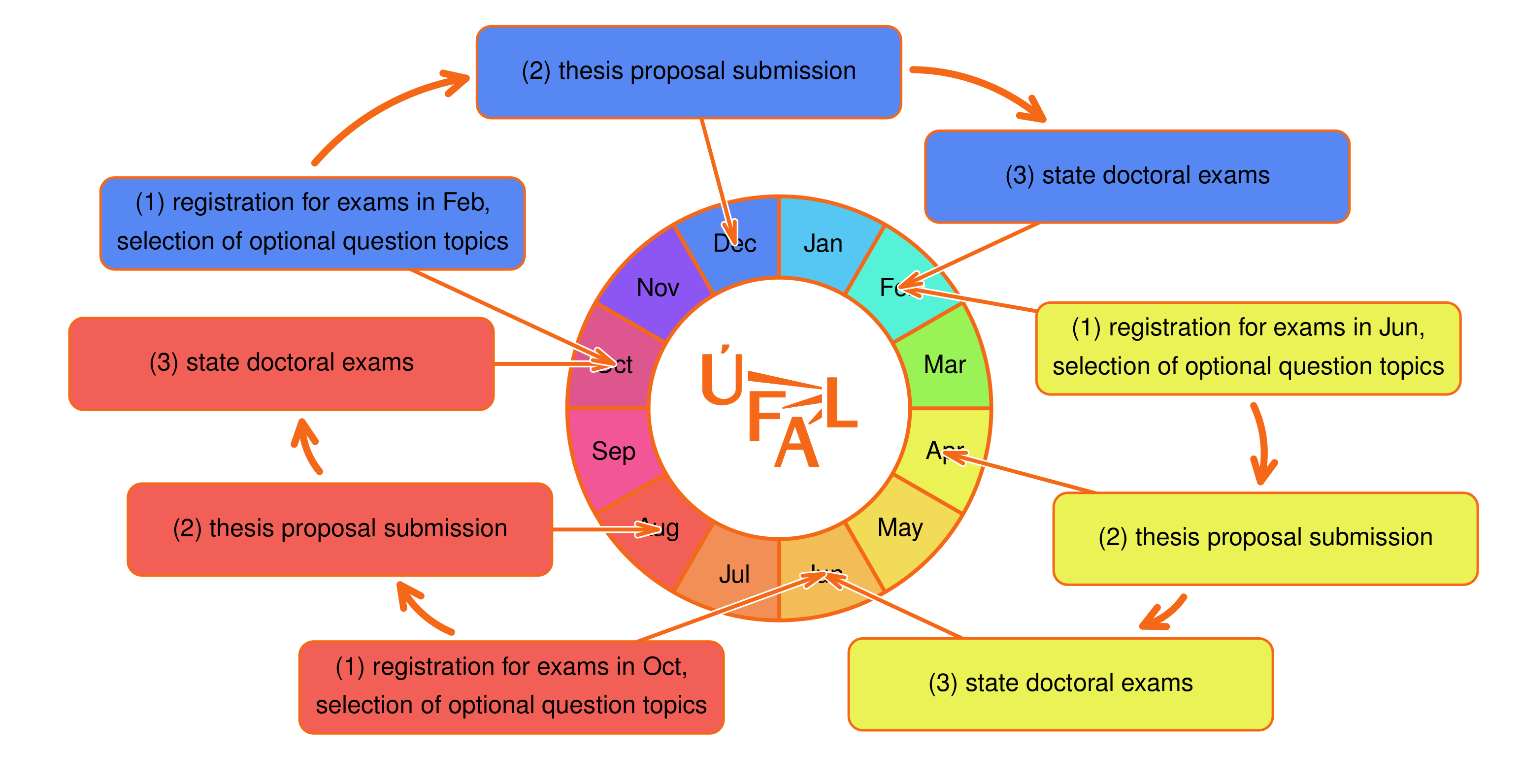 The exam composes of two parts. A defense of your "thesis proposal" comes first. You have to submit your thesis proposal in a written form (some 10 pages in the two-column ACL-style format) at least one month before the exam, as it'll be reviewed by one of the exam committee members. The proposal should not only contain related work description, but also some new original idea of yours (and ideally some pilot experiments too). There'll be 20 minutes for your presentation and 10 minutes for a discussion with the reviewer and others.
Then a "classical" examination follows, in which you might be asked any question from one common/obligatory question areas and from two other question areas which you select (prior to the exam) from 4 optional question areas listed in the document referred above.
TODO: tohle je podobne jinymi slovy: The exam takes roughly an hour in total, and composes of two parts of comparable duration.
In the first part, your PhD thesis proposal will be discussed.
You are supposed to submit your thesis proposal in the written form one month before your exam date, by sending it to me and to your reviewer (usually one of the exam committee members) by email.
The minimum length of the proposal is 10 A4 pages (which is considered the optimal length at the same time), plus unlimited references, plus reasonably-sized appendices if needed, all formatted in the two-column ACL style.
You should include a related literature overview in the proposal, and describe your achievements already reached during your PhD study, as well as your future plans concerning your dissertation. Needless to say that even the future plans should be described as clearly as possible so that your proposal can be reviewed.
It should be emphasized that the purpose of the thesis proposal is strategical: you should describe the state of the art as well as the main challenges in your (sub)field, clearly identify your own research goals and outline your strategy. Unlike in ordinary publications, completed novel results (be their experimental or theoretical) are not expected to constitute the core of the text of the proposal. Thus it is not advisable to recycle fully an ordinary conference paper for this purpose.
During the state exam, you are supposed to present a 15-min. summary (with slides) of your thesis proposal. Then the review will be briefly presented and you'll be asked to respond to reviewer's question and comments. Then a discussion about your proposal with the other committee members will follow.
In the second part of the exam, each student is examined on three exam topics. Topic 1 is obligatory, and then the student chooses two out of the remaining eight topics (any combination is possible), please find the details at http://ufal.mff.cuni.cz/~zabokrtsky/tmp/okruhy/okruhy-P4I3-2019.html (I know the URL looks suspicious, but the official version of the study plans ("karolinka") of the newly accredited programs has not been published by the faculty yet).
A.11. Giving a pre-defense presentation at UFAL Monday seminar
A.12. Submitting and defending your PhD thesis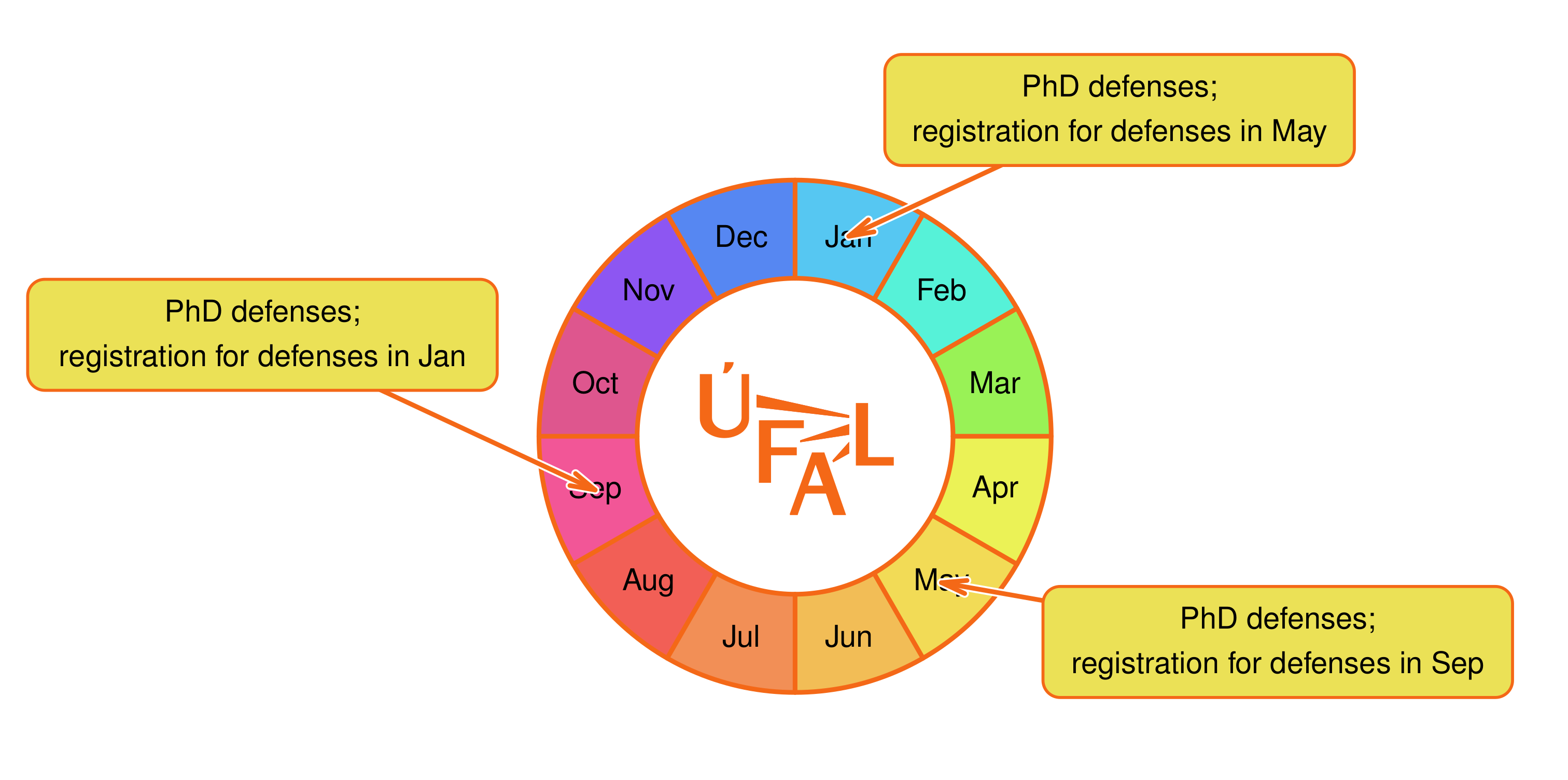 A standard defense takes roughly an hour if everything goes smoothly.
The course of the defense is controlled by its chairman (this time me in both cases).
Technically, the scenario consists of quite a few steps, but what's important for you is the following:

Most importantly, after a more or less formal introduction and after your evaluation by your supervisor, you're supposed to give a 20 minute talk (with slides) that summarizes your thesis and major related achievements.
Then, after the opponents' reviews are presented, you should respond to them; if there are too many items to respond in a review, then the opponent typically asks you to react only to the most serious ones; however, you should be perfectly ready to react to each and every question or comment from the reviews; and you may even want to prepare some extra slides to give more elaborate answers if needed.
After the reviews, a general discussion follows in which all committee members and visitors can ask questions.
The decision-making about the result will be then made in a closed session, i.e. without you and without visitors.
If the result is positive, then you'll have a chance to take the floor once again to say a few final words (e.g. acknowledge whom you want to acknowledge, if you want to).
If the result is negative, then the second trial can be organized at least 6 months from this one, and only if it's not beyond the maximum study length limit.

As for the 20-min presentation, please make a dry run, ideally with the help of your supervisor and/or some other more experienced colleagues. Please really do. Among other things, it would be embarrassing to be stopped on time-out before your last slide gets reached.
A rather social comment: some enthusiastic students can't resist the temptation to ask the reviewers or the audience for being asked more questions, but please keep in mind that, once again, the process of the defense is controlled by its chair, not by the defending student. If I put it brutally, I'll indicate it very clearly when you are supposed to speak; similarly, if I ask you to e.g. make your answers more concise (or less vague or more clear), then please do so.
It's highly recommended to check the technical equipment in the room long before the defense. However, this time it might happen that I'll reschedule to defense(s) to some other room (sorry for that, but scheduling in that week is extremely non-standard this year). If I reschedule it, then I'll warn you in advance.
Miscelaneous information
B.1. Money first - typical PhD students' income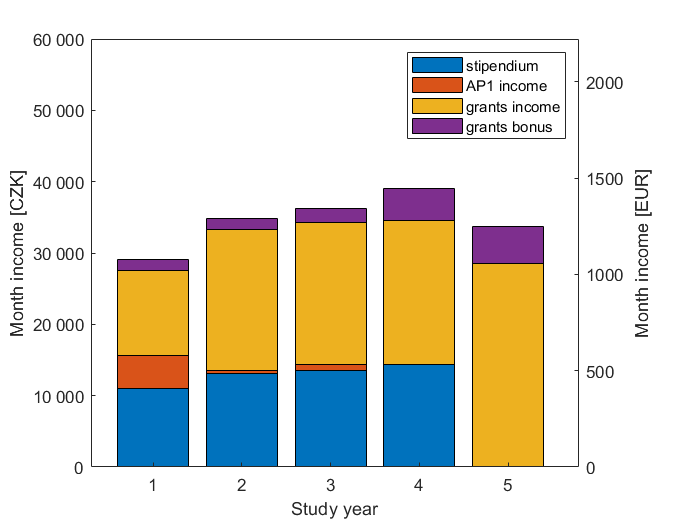 B.2. Publication activity during the study
B.3. What if things go wrong...